Inkarnasi Yesus: Pendekatan Analogis Penginjilan Bagi Kaum Hinduisme, Buddhisme dan Masyarakat di Era Postmodernisme
Stanley Parluhutan Hutabarat

Kharisma Theologycal Seminary

Yanto Paulus Hermanto

Sekolah Tinggi Teologi Kharisma Bandung
Keywords:
Incarnation of Christ, Evangelism, Hinduism, Buddhism, Postmodernism
Abstract
The diversity of human cultures with a worldview in them illustrates that the gospel mission model is not always uniform and effective with one particular form of method. The method of analogy with the incarnation of Christ is one of the most relevant approaches to evangelism in the postmodern era today. This study examines the pattern of Christ's incarnation as an evangelistic approach. The method used is qualitative with literature studies. The results of this study show that the model of Christ's incarnation can be used as an effective evangelistic tool for Hinduism and Buddhism beliefs, and society in the era of postmodernism.
References
Akyra Lubis. Teori Dan Metodologi: Ilmu Pengetahuan Sosial Budaya Kontemporer. Depok:
RajawaliGrafindo, 2014.
BP. "Gandhi On Christianity." Sarapanpagibiblika.Org.
David W. Shenk. Ilah-Ilah Global: Menggali Peran Agama Dalam Masyarakat Modern.
Jakarta: BPK Gunung Mulia, 2010.
Hali. Intisari Agama-Agama Sedunia. Bandung: Visi Anugerah Lestari, 2015.
Harefa, Febriaman Lalaziduhu. "Menggunakan Konsep Inkarnasi Yesus Sebagai Model
Penginjilan Multikultural." PASCA: Jurnal Teologi dan Pendidikan Agama Kristen (2020).
Harun Hadiwijono. Karma Berarti Perbuatan, Sementara Dalam Prakteknya Berarti Kurban
Agama Hindu Dan Buddha. Jakarta: BPK Gunung Mulia, 2012.
K.M.L. Tobing. Missionaris Lokal. Jakarta: YKBK, 2006.
Kanayalal M. Talreja. Veda Dan Injil: Satu Studi Komparatif. Jakarta: Penebar Swadaya,
2006.
L. Humes. Kupatuhi Perintah Tuhan: Perjuangan Misionaris Muda Hudson Taylor. Jakarta:
Yayasan Komunikasi Bina Kasih/OMF, 2003.
Lesslie Newbigin. Injil Dalam Masyarakat Majemuk. Jakarta: BPK Gunung Mulia, 2006.
Niftrik, G.C Van, and B.J Bolan. Dogmatika Masa Kini. ja: BPK Gunung Mulia, 1995.
Paul Borthwick. Great Commission Great Compassion: Amanat Agung. Surabaya: Perkantas,
2016.
Richard R. Dunn. Membentuk Kerohanian Anak Muda Di Zaman Postmodern. Surabaya:
Perkantas, 2012.
Rolland, and Heidi Baker. Training for Harvest: Panduan Praktik Dan Interaktif Untuk
Memperlangkapi Andan Menjadi Penuai Jiwa Yang Andal Pada Akhir Zaman.
Yogyakarta: Andi, 2018.
Stanlay J. Grenz. A Premier on Postmodernism: Pengantar Untuk Memahami Postmodernisme Dan Peluang Penginjlan Atasnya. Yogyakarta: Andi, 2001.
Supriadi, Made Nopen. "TINJAUAN TEOLOGIS TERHADAP POSTMODERNISME DAN
IMPLIKASINYA BAGI IMAN KRISTEN." Manna Rafflesia (2020).
Tony Tedjo. Mengenal Agama Hindu, Buddha, Dan Kong Hu Chu. Bandung: Pionir jaya,
2011.
William Barclay. Duta Bagi Kristus: Kehidupan Dan Pengajaran Paulus. Jakarta: BPK
Gunung Mulia, 2016.
Zaluchu, Julianus. "Gereja Menghadapi Arus Postmodern Dalam Konteks Indonesia Masa
Kini." GENEVA: Jurnal Teologi dan Misi (2019).
Zaluchu, Sonny Eli. "TANTANGAN POSTMODERNISME TERHADAP FINALITAS
ALKITAB." PASCA (2010).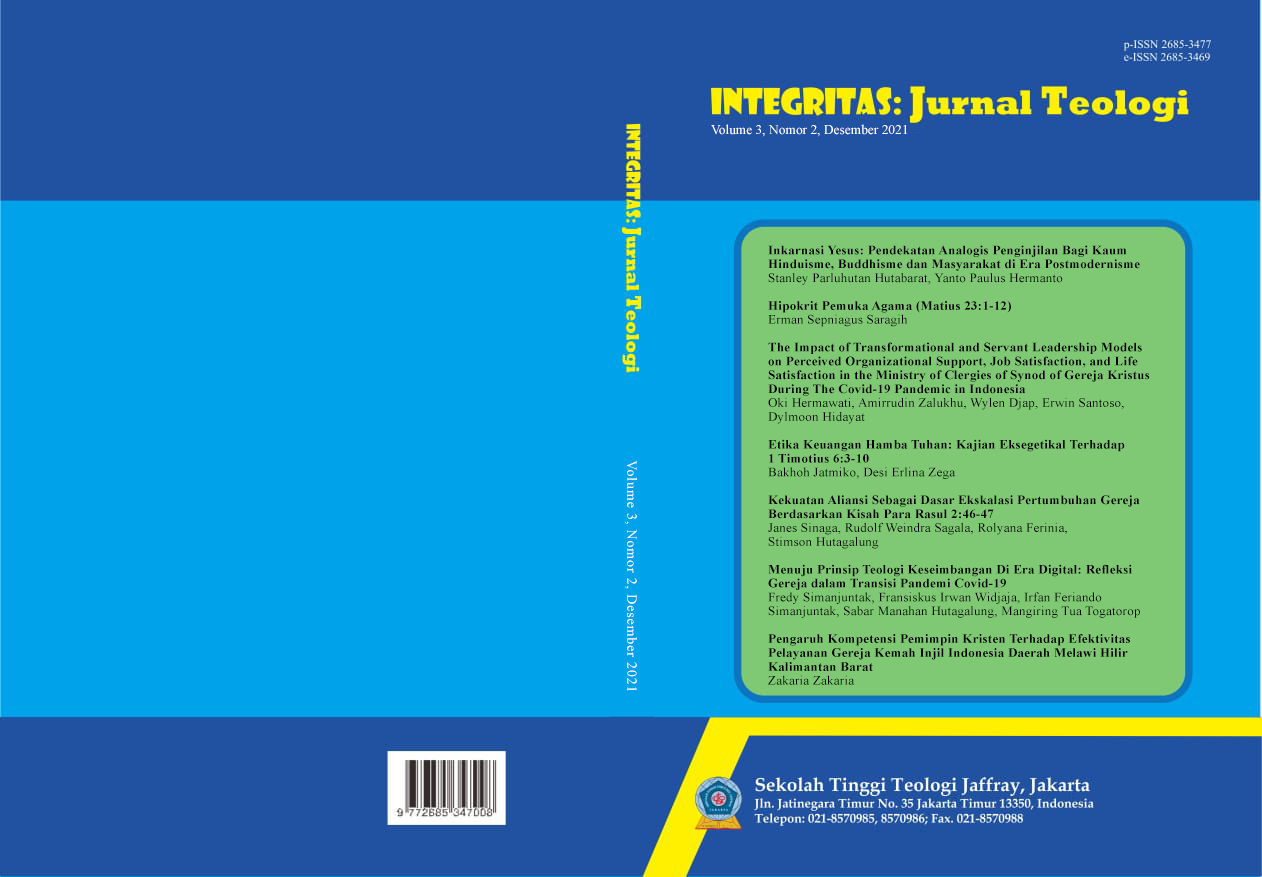 Copyright (c) 2021 Integritas: Jurnal Teologi
This work is licensed under a Creative Commons Attribution-ShareAlike 4.0 International License.
This work is licensed under a Creative Commons Attribution-ShareAlike 4.0 International License.
Copyright © Integritas: Jurnal Teologi 2020. All Rights Reserved.