Strategi Optimalisasi Kinerja Kepemimpinan Gereja Lokal
Welly Octavianus Mawa

Sekolah Tinggi Teologi Jaffray Jakarta
Keywords:
Strategic, optimization, performance, leadership, catalyst, ministry, church.
Abstract
This article discusses the issue of strategies for optimizing the performance of local church ministry leadership. Leadership is an interesting object, which has long been studied by scientists and practitioners of the organization. This is based on the phenomenon that leadership is a part of human life in all places and times. The leader is a catalyst to ensure the success or failure of an organization. The role of a leader in the leadership process touches the functions of leadership, management, and administration in the entire framework of the organizational structure. The church is being faced with a current of rapid change. Responding to this reality, church leaders are required to be able to change paradigms so that they are able to hold reforms in various fields of service to deal with the demands and struggles of existing services. Therefore, this article presents important principles for optimizing the strategic role of leaders to improve the leadership performance of local churches in carrying out their ministry responsibilities in the world.
Downloads
Download data is not yet available.
References
Bill Perkins. Membangkitkan Kepemimpinan Dalam Diri Anda. Batam: Interaksara, 2005.
Daniel Ronda. "Kepemimpinan Kristen Di Era Disrupsi Teknologi." Evangelikal: Jurnal Teologi Injili dan Pembinaan Warga Jemaat 3 (2019): 1–8.
David Hocking. Rahasia Keberhasilan Seorang Pemimpin. Yogyakarta: Yayasan ANDI, 1994.
Dyah Budiastuti dan Agustinus Bandur. Validitas Dan Reliabilitas Penelitian. Jakarta: Mitra Wacana Media, 2018.
Frances Hesselbein, dkk.,. The Leader of the Future. Jakarta: PT. Elex Media Komputindo, 2000.
Henry dan Richard Blackaby. Kepemimpinan Rohani. Batam: Gospel Press, 2005.
Jenus dan Maria. Faith, Character, Competency: Three Keys to Maximize Leadership in You. Jakarta: Metanoia Publishing, 2012.
John C. Maxwell. Mengembangkan Kepemimpinan Di Dalam Diri Anda. Jakarta: Binarupa Aksara, 1995.
———. Mengembangkan Kepemimpinan Di Sekeliling Anda. Jakarta: Profesional Books, 1997.
John Virgil. Kompleksitas Pengembangan Gereja. Jakarta: Yayasan Kasih Immanuel, 2001.
Jonathan L. Parapak. Kepemimpinan Kristiani. Jakarta: STT Jakarta, 2003.
Lorens Bagus. Kamus Filsafat. Jakarta: Gramedia, 1996.
Myron Rush. Pemimpin Baru. Jakarta: Immanuel, 1993.
Patricia Patton. EQ-Keterampilan Kepemimpinan. Jakarta: Mitra Media, 2002.
Penyusun, Tim. Kamus Besar Bahasa Indonesia. Balai Pustaka, 1999.
Peter Salim. The Contemporary English-Indonesian Dictionary. Jakarta: MEP, 1990.
Robert D. Dale. Pelayanan Sebagai Pemimpin. Malang: Gandum Mas, 1997.
Robert Heller. "Effective Leadership." Dian Rakyat (2003): 8.
Ron Jenson dan Jim Stevens. Dinamika Pertumbuhan Gereja. Malang: Gandum Mas, 2000.
Soekidjo Notoatmodjo. Pengembangan Sumber Daya Manusia. Jakarta: PT. Rineka Cipta, 1998.
Sondang P. Siagian. Teori Pengembangan Organisasi. Jakarta: Bumi Aksara, 2000.
Sukanto Reksohadiprodjo. Dasar-Dasar Manajemen. Yogyakarta: BPFE-Yogyakarta, 2000.
Th. Kohong. Seri Membangun Bangsa: Kepemimpinan Dan Pembinaan Warga Gereja. Jakarta: Sinar Harapan, 1998.
Thomas Gordon. Menjadi Pemimpin Efektif. Jakarta: PT Gramedia Pustaka Utama, 1995.
Tim Penyunting. Tantangan Gereja Di Indonesia. Bandung: Pusat Literatur Euangelion, 1990.
Tim Penyusun. Kamus Besar Bahasa Indonesia. Jakarta: Balai Pustaka, 1990.
Tomatala, Yakob. Penatalayanan Gereja Yang Efektif Di Dunia Modern. Gandum Mas, 1993.
Yakob Tomatala. Kepemimpinan Yang Dinamis. Jakarta: YT Leadership Foundation, 1997.
———. Manusia Sukses. Jakarta: YT Leadership Foundation, 1998.
———. Pemimpin Yang Handal. Malang: Gandum Mas, 1997.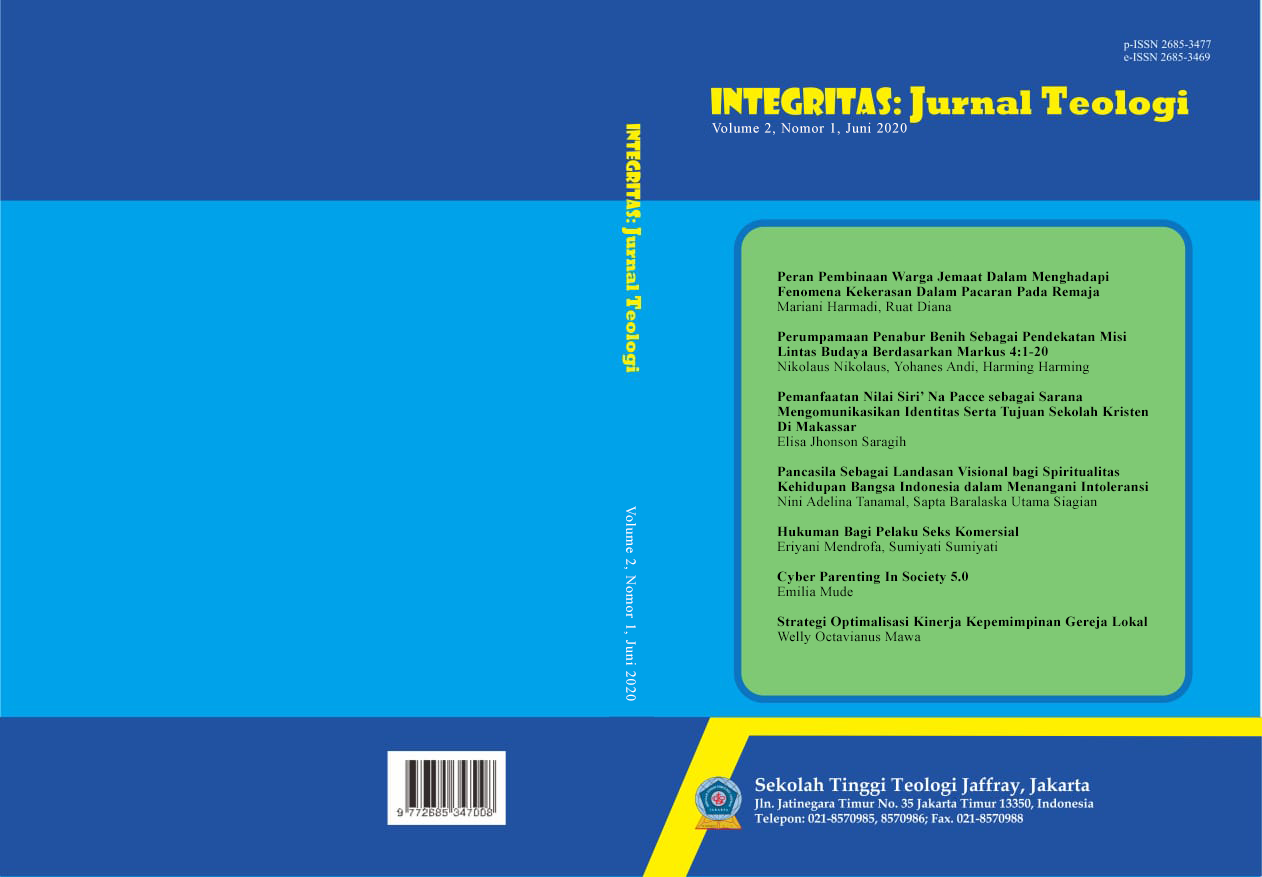 Copyright (c) 2020 Integritas: Jurnal Teologi
This work is licensed under a Creative Commons Attribution 4.0 International License.
This work is licensed under a Creative Commons Attribution-ShareAlike 4.0 International License.
Copyright © Integritas: Jurnal Teologi 2020. All Rights Reserved.